Disasters
TOP STORY
Protecting Utah
Water after fire isn't always a good thing
Picture this scenario. It's all too real:
Utah's past hot and dry summers have led to active wildfire seasons. Though we have lost many homes, many homes and businesses have survived wildfires due to heroic firefighting efforts, wise planning and some great luck.
Imagine the horror many face when it turns out the wildfire burn scars pose another threat, the threat of flooding and debris flows, the kind that can fill a basement with water in a minute, the kind that can float away cars, imprisoning them in mud.
Scorched soil after a fire becomes hydrophobic — water repelling. So when rain falls following a fire, it has a tendency to get the soils moving rather than penetrating the earth like normal. And it doesn't take much water.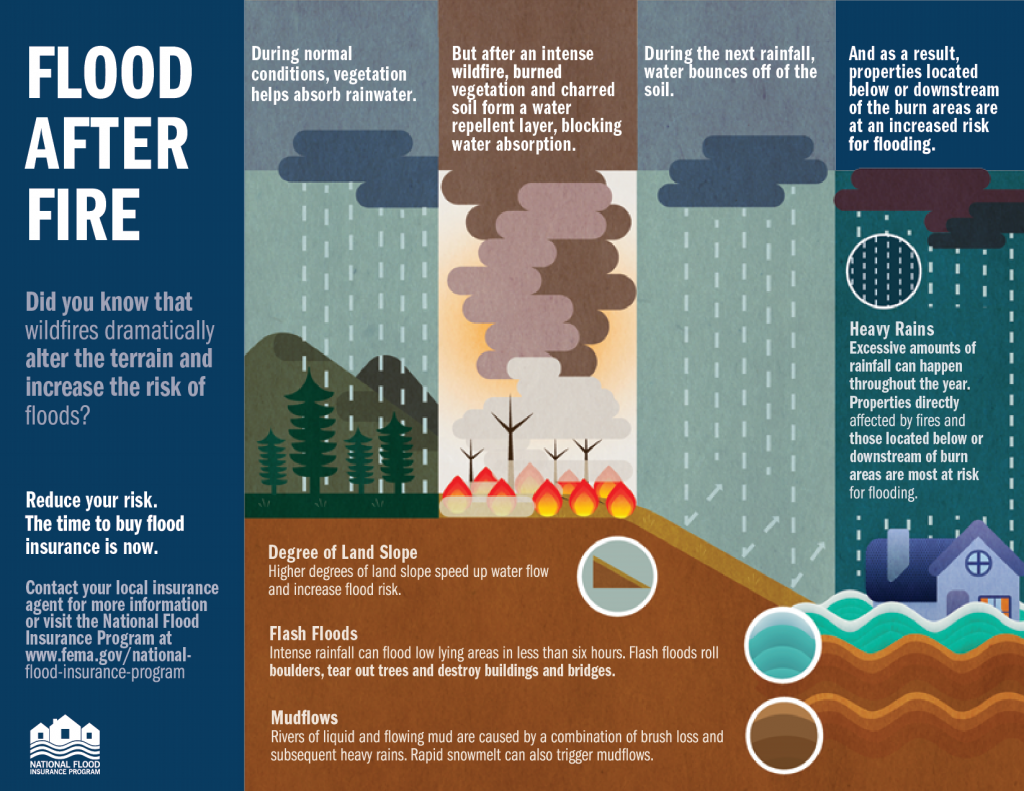 Just .25 inches in 20 minutes or .5 inches in 30 minutes is enough to get a hillside moving. And everyone below better get out of the way. This isn't a warning for people who live and work below the Pole Creek and Bald Mountain fires from 2018, but also the Dollar Ridge Fire in Duchesne County, where debris flows have already damaged roads and campgrounds, such as the Camelot Resort in Fruitland. The burn scar from the 2017 Brian Head Fire is still a danger, as are any wildfires from the past 3 to 5 years.
What can you do?
If you live below a burn scar:
Contact your insurance agent and ask about flood insurance. It is a SEPARATE policy from your homeowners policy. Your regular homeowners policy does NOT cover flooding. Visit FloodSmart.gov to learn about flood insurance
Plan to maintain an flood insurance policy for at least 3-5 years after a wildfire if you live below a burn scar.
Pay attention to weather reports, specifically flood watches and warnings. You can get updates directly from the  National Weather Service SLC website or Twitter account.
You may need to be prepared to evacuate.
Don't let anyone sleep in a basement during storms. A debris flow can fill basements with water and mud in a minute, blocking doors and trapping people.
Bring important documents above basement level when there is a storm threat. Don't let them get destroyed by a debris flow.
Don't drive through a flooded area. If you come upon a flooded road, turn around and go another way. More people drown in their cars than anywhere else.
If your car stalls, abandon it immediately and climb to higher ground. Many deaths have resulted from attempts to move stalled vehicles.
Don't walk through flooded areas. As little as six inches of moving water can knock you off your feet.
If you evacuate, take dry clothing, a flashlight and a portable radio with you. Then, wait for help.
Don't try to swim to safety; wait for rescuers to come to you.
If outdoors, climb to high ground and stay there.
---
Joe Dougherty is the public information officer for the Utah Division of Emergency Management.
jdougherty@utah.gov
Twitter: @UtahEmergency @BeReadyUtah