Commissioner
Press Release
Commissioner Squires Promotes Three Richfield Employees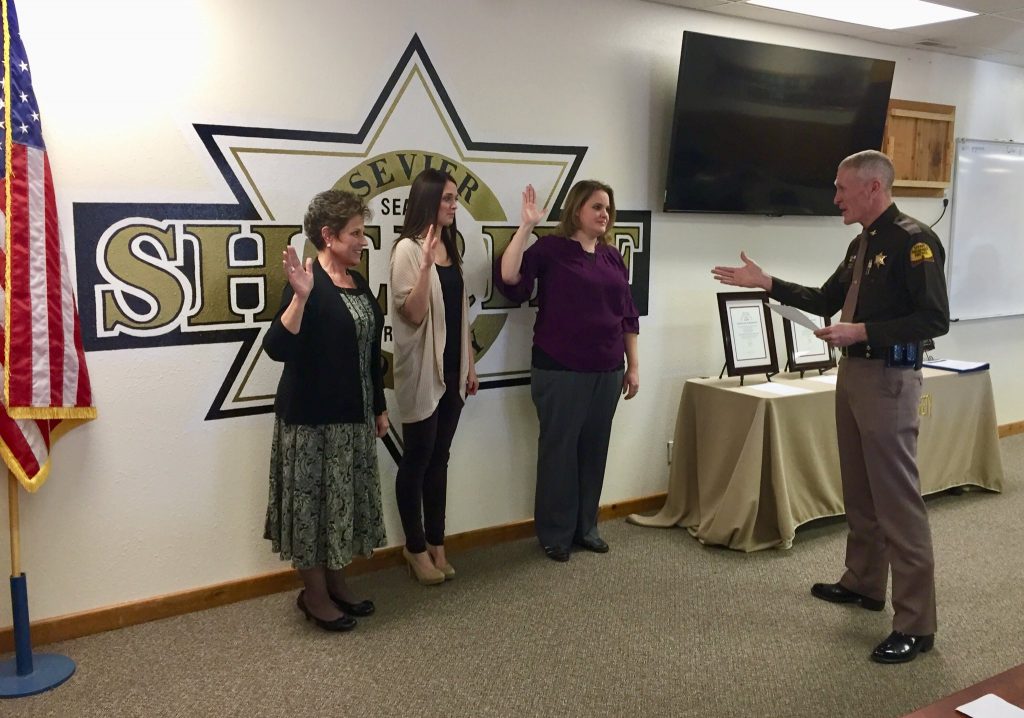 The Utah Department of Public Safety (DPS) honored three local employees for their dedication to public safety at a ceremony in Richfield. The three women Kathy Quarnberg, Alicia Gleave, and Amie MacArt were promoted by Commissioner Keith Squires. A swearing in ceremony was held at the Sevier County Search and Rescue building where Utah Highway Patrol Colonel Michael Rapich led an oath of office.
"It is an honor to promote such talented individuals to these new positions of critical responsibility. I served in our Richfield Utah Highway Patrol office from 1998 to 2003 and saw firsthand the expert and caring way that Kathy and Alicia do their jobs," said Commissioner Keith Squires of the Utah Department of Public Safety. "Amie has also distinguished herself with her hard work and support to our first responders and the public. Over the years, their dedication, leadership and service has been remarkable."
Quarnberg was promoted to Deputy Bureau Chief with the DPS Communications Bureau. Quarnberg brings 34 years of experience in the communications profession. She has served as the Richfield Manager for the last 29 years.
Gleave was promoted to serve as the Richfield Communications Center Manager. She has 21 years of experience with the DPS Communications Bureau. She began her career as a dispatcher and was then promoted to a supervisor where she has dedicated her time the last 16 years.
MacArt will now serve as supervisor for the Richfield Communications Center. She has nine years of experience with the DPS Communications Bureau.
"We are fortunate to have such a great team in our DPS Richfield Communications Office serving all the public safety agencies and citizens of Central Utah and our entire state," said Squires.
The DPS Richfield Communications Center provides local emergency communication services for Utah Highway Patrol, Millard, Juab, Sanpete, Sevier, Piute, Wayne and Garfield Counties. They receive an average of 81,000 calls for service each year.
Quarnberg, Gleave and MacArt bring a wealth of knowledge and skills that will prove invaluable in the community.
###
MEDIA CONTACT
Hillary Koellner
Director of Public Affairs
Department of Public Safety
hmkoellner@utah.gov